Year 2783: (Char RP)
The human race has emerged from its primordial nest of Earth with the goal of exploring the solar system, and, eventually, the stars. Earthside, life is overcrowded, disease is rampant, and the governments of the old world still squabble for control of the old empires. There is more unity among the peoples of Earth, but class divisions are greater than ever. The moon has been colonized, and is now made up of a vast network of underground tunnels, some of which lead to larger excavations which have become the cities of the moon. Mars, Ganymede, Ceres, Europa, and Io have either been colonized or are in the process of being colonized. Mars has the largest population of the colonies, and has several booming cities, made possible by the iron found on the planet. The surface appears at first glance to be a glittering silver ball, but in reality, steel buildings now cover the entire surface, and stretch deep into the planet's crust. Ships now travel between the planets regularly, and a journey that once took months now takes only about a week. Massive colony ships launch occasionally by the corporate space conglomerates bound for the stars. Convicts from Earth and volunteers are sent aboard these missions. The colony ships take about 25 years to reach the nearest of the stars. None have yet returned with news of success or of failure, and none are expected to return in the next decade. The population of humanity is around 44 billion, and continues to rise as humanity expands.

A few ground rules (that may change):
- Please, no intelligent extraterrestrial life
Isaac stood in the busy terminal, confusingly observing the network of flashing displays, glowing signs, whizzing space cars, and dignified businessmen all seeming to move and flash in a synchronized rhythm. The entire terminal was encased in a massive building of steel, as far as the eye could see. One full wall, distant as it was, appeared to be pockmarked in holes, after a second which a small space car emerged, decelerated, and landed softly in a taxi zone. The ceiling, though reinforced by thick steel girders, was a vast sheet of glass, and looking up, Isaac could see a whirl of space craft around the central docking zone , each of which radiated lights - so much so that even the pristine Martian view of the stars was obscured. He could see hundreds, if not thousands of space craft, both small and large, zooming overhead at unbelievable velocities. Space elevators punctured the ceiling at regular intervals, transporting space travelers down from the heavens and into the chaos of the spaceport. He heard sirens blare in the distance, shouts of departing friends, beeps from the taxis, and gusts of synthesized air from everything around him.

"Excuse me!" A man in an expensive looking suit walked into him, then brushed past, only to be reabsorbed by the chaos. Another did the same, this time to step into an elevator which proceeded to rocket spacewards. That's when it hit him. He stood, looking out and around him, at the vast interior of the Olympus Mons Space Port, shortly after arriving from Earth.

He looked around for some way of getting to the taxi zone when an electronic beep from the floor alerted him that it was waiting. Before him on the ground lay a blinking orange arrow. He realized then that it had been flashing since he arrived. Without really knowing why, he decided to follow it. It led him to a long strip of moving metal plates. He got on one, then became aware that he was on one of the famed rolling roads - like moving sidewalks, but larger, with different lanes, different speeds, connections, and with permanently stationed central concessions kiosks. He felt the acceleration of the plates beneath him, and dimly heard the motors below hum. After stepping quickly onto different lanes, he found himself going reasonably quickly across the space port, at about 60 miles per hour.

A minute and a half later, he got off, found a waiting taxi, and was launched off the floor. The space car lifted vertically off the ground, twisting in midair, and was quickly swallowed by a tunnel. He realized, that, unlike on Earth, these taxis were robotic. The taxi accelerated rapidly. Small electric lights placed at regular intervals of every 100 feet became a solid glowing white line as the taxi sped through the darkness. The taxi emerged from the tunnel into another building, this time diving into another tunnel situated on the floor. The car remained horizontal for the entirety of the time, but Isaac could still feel his ears pop as the car plummeted. It then quickly slowed, and entered yet another building. Here, he was let out, and found a place to stay in a small motel, packed deep within the martial soil and hundreds of miles away from the spaceport. Tomorrow he would explore what would be his new home, but today, he was tired. It had already been along day.
//I'm wanting to create a sort of Terminator, Deus Ex sort of situation on Earth, so I was going to Augment my guy to pick a side. If this isn't good and it's unfair, let me know and I'll take it down and find something else to do.

Also, if you don't like cuss words because you're squeamish about them, don't read this lol.//

Lieutenant John Hunter was a Special Operations soldier of the new United States Special Operations Division called USBAST, United States Biologically Augmented Shock Troops. The enhancements weren't that bad, It was just getting them that was a bitch. The washout rate, at least with how many John had, was about 65% Deaths, and 10% would become paraplegics. Still, there was something to be said about surviving the upgrades.

Reinforcing of the heart muscle tissues, stronger Adrenal hormones, reinforced muscular and skeletal structure, "upgraded" neural connections, Spider webbing in his skin to make his skin alone bullet resistant, the fucking works. It was beginning to sound like one of the fictional characters off of one of his grandfather's video games when he was a child, HALO, only he wished his division would have been given a kick ass name other than USBAST. Still, it was a good job none the less.

The pay was good, the jobs challenging, and the natural feel of a weapon in his hand was something he couldn't beat. He was an Infantry Grunt for as long as he could remember and then was thrown into the Special Operations Division out of random. He felt like a god once the augments were done, but when you create one weapon of war, you know there is another to replace the one before.

Robots. Can't beat those fuckers. They don't eat, sleep, shit, shower, all they do is kill. Problem was, even though the bastards had an uplink to the HMC, or Hivemind Computer, if you launched a missile into the main server or uploaded a virus in the server, you lost your damn army and your defenseless. The test today was to see if switching the "Fleshies" out with the "Hard-Dicks" was feasible and more cost effective.

According to the brochures, Mars is a planet completely covered in Iron and one huge city. It was bull shit, as there was a stretch of land about 50 x 50 miles that the U.S. Government forced their way into so they could test out weapons, or invite the president to get shot like what happened about 6 years before. This was the battlefield today, 20 USBAST versus 20 of the newest and shiniest robots, the MK VII's.

For the past couple of days being out here, the USBAST and the MK VII's have been at each other's throats. These things were bigger, stronger, had faster processing, and were made to destroy their enemy at all costs. John hated the damn things, it didn't matter if they were going to fight alongside him one day, since the Chinese were contesting American Control of space and creating a Third Cold War, they were bad luck. The Chinese already made the conversion, and ever since then they have been making vulgar displays of power toward the Americans to the point that America had to try something new for it's survival.

John pushed for more Augmented soldiers, as you couldn't beat a Human's thinking or processing in a war situation. Robots are machines, they don't know what the difference is between a combatant and an unarmed hostage. They also don't have the willingness to fight for their lives because they're not alive. You can't take out the Human element. But unaugmented people have control of the government and are jealous of the augments the soldiers have and not them. Of course the soldiers have them, they're instruments of war for god's fucking sake! You don't hand a civvie an RPG and tell him to light a cigarette with it, because they aren't even robotic! There is no need for civvies to have them.

They want the Robots, Augs want the Augmented Human Army, and it was up to this last battle to determine who would win the heart of the United States Army. All the USBAST's had were Ceramic overlapping plates for the most part of their body, a sturdy helmet with a HUD, and their weapons varying from the SCAR-19 Assault Rifle, the P-8 Pistol, and the SCASR-1 Sniper Rifle. Their enemy had heavier weaponry, more of it, and this time, they were defending.

"Alright boys, we need to do a little Recon. Sarn't Lingam, take your 5 and scout our Northwest. Sarn't Young, scout our Northeast. I'll take the main body downrange and see what we can find, hooah?" John said, getting the attention of his men.

"Hooah, sir," they all echoed.

"Good, let's go hunt."

Dotaria

SPDF Commander




Posts

: 740


Join date

: 2013-11-21



Code:

UN File #522214: "The Dread Pirate Roberts"
Name: NA
Tracking #: 51662 Status: RFB
Location: NA, last seen outside Moon orbit.
Notes: Not much is known on the man or his crew as noone onboard the ships raided have lived to tell any facts. All we have are rumors spread by low ranking crew and accounts of spotting him/her in orbit.
The bastards still couldn't get his name. He smirked as he threw the file aside. His name was Evan Black, known by all as The Dread Pirate Roberts. He stole that name from an ancient "Blu-Ray" disk of "The Princess Bride" from the early 2000's. "The charges are set sir." A man said approaching him.
"Good, is the captain or any other VIP alive?"
"Their all waiting for you in the hanger sir."
"I guess I shouldn't keep our guests waiting then." Evan said with as light grin, walking from the room, trailed by the man. He arrived in the hanger bay and looked at the men kneeling before him. "Captain Steuarts, I read the file you have stored on me and I am disappointed in you. You couldn't even find out my name?"
"Please do-" He was on the floor before he finished the second word.
"Government pigs," Evan said spitting on the man he just shot. He turned towards the other two. "Ambassador Yulo and Felon if the United States! I am privileged to have you aboard my fine vessel. So tell me, how much would the US be prepared to pay me for you returned safely?" Evan said leaning up against a box, twisting his P-63 recoil less pistol in his hand.
"The US doesn't negotiate with pirates or terrorists." Yulo spat. Evan of course knew they do. He was part of the Navy Seals durning the Tower Crisis. An event where terrorists took over the Brooklyn Space Tower and held the entire embassy there hostage. They rescued them for 2 billion, but the news said that the Seals "Valently killed the terrorist scum". After that Evan planned to fake his death and start anew in space. He was actually offered a job aboard the Smuggling ship Tortal under Captian Greno. That is how he got into this business. He was a freedom fighter, a terrorist to the corrupt scum of Earthgov (all governments of earth) and he planned to cleanse all who blindly follow those bastards.
"So the don't? That's too bad," Evan shot him, "I might have considered letting you die better. Now, Felon, how would you like to die?"
"Fuck you and your greedy ass crew! Damn you to hell!"
"Listen carefully, you blind fuck. I am not rich. I give all the money and supply's to the oppressed, poor people that your government neglect and force to work in sweat shops. Think about what you say next because they're going to determine how you die." Evan said throwing him to the ground.
"I'm going to laugh when the earth governments find and hang you."
Evan frowned slightly, then shot him twice, once in each ankle. He then grabbed him and threw him into the airlock. Open it just enough so that there is enough air to stay conscious.
Time to leave...
Isaac awoke with a start, breathed in a lungful of synthesized air, then promptly got dressed. He jumped out the door, and wove his way through the extensive subterranean Martian metropolis. He couldn't believe how many people lived on Mars. People were everywhere; of course, where he slept last night wasn't the best of places. As he soon learned, Mars was one colossal city, divided into separate districts, but it was impossible to tell where one left off and the next began. According to the brochure he saw Earthside, not a single square inch of Martian soil was left untouched by the expansion and merging of the Martian Cities. But who listens to those brochures anyway?
As the center of human population began to shift in the early expansionary years more towards space, and, specifically, more towards the average of where ever Mars was with relation to Earth, trade shifted in the same direction as well. That was only to be expected. It was also why he was here, on Mars, that is. Having escaped the prison that was Earth, he was now free. Free to become his own man with his own ways and his own life. Free to explore.
But to explore, one needed credits. And he had spent every last dime he had just to purchase a one-way ticket to Mars. And now that he was here, he didn't know what to do.
~~~
"Hey'O, mate! New to 'round these parts?" Isaac looked around. A grunt from his lower left made him aware of a man crouching at the curb of the rolling road. Isaac nodded. The man was obviously a beggar. The way he moved, the downcast and defeated look in his eyes, and his torn garb were sure giveaways. Isaac looked guiltily at the man, then shook his head, and walked into a nearby tunnel. A sharp tang of pain from his heel made him swivel around, and he realized that the man he had thought was a beggar was biting him in the ankle. He heard a shuffling noise behind him, turned, but it was too late. With a thunk, we was out for the count and dragged off into an alley.
Evan watched as the man banged on the glass of the airlock, pleading silently to let him out. After a few minutes he slowed and slumped by the airlock door, unconscious. Evan walked away after that.
He returned to his cabin and sat down. He felt feeling come back to him. This thing he had... it was weird... something no one could get used to. One second he was the nicest guy ever. Everyone back on Earth said so, but once it was go time. That's when it got real. He could feel himself being lost, transitioning to the Killer him. The one that COULD do the things he does to the people on those ships. The thing was that he could control it. Something most couldn't do. Serial killers usually have the same thing as him, just they can't control it.
He rose and washed the blood off of him. He looked in the mirror and this is what stared back. //yes i know this is BJ Blaskowitz from Wolfenstein//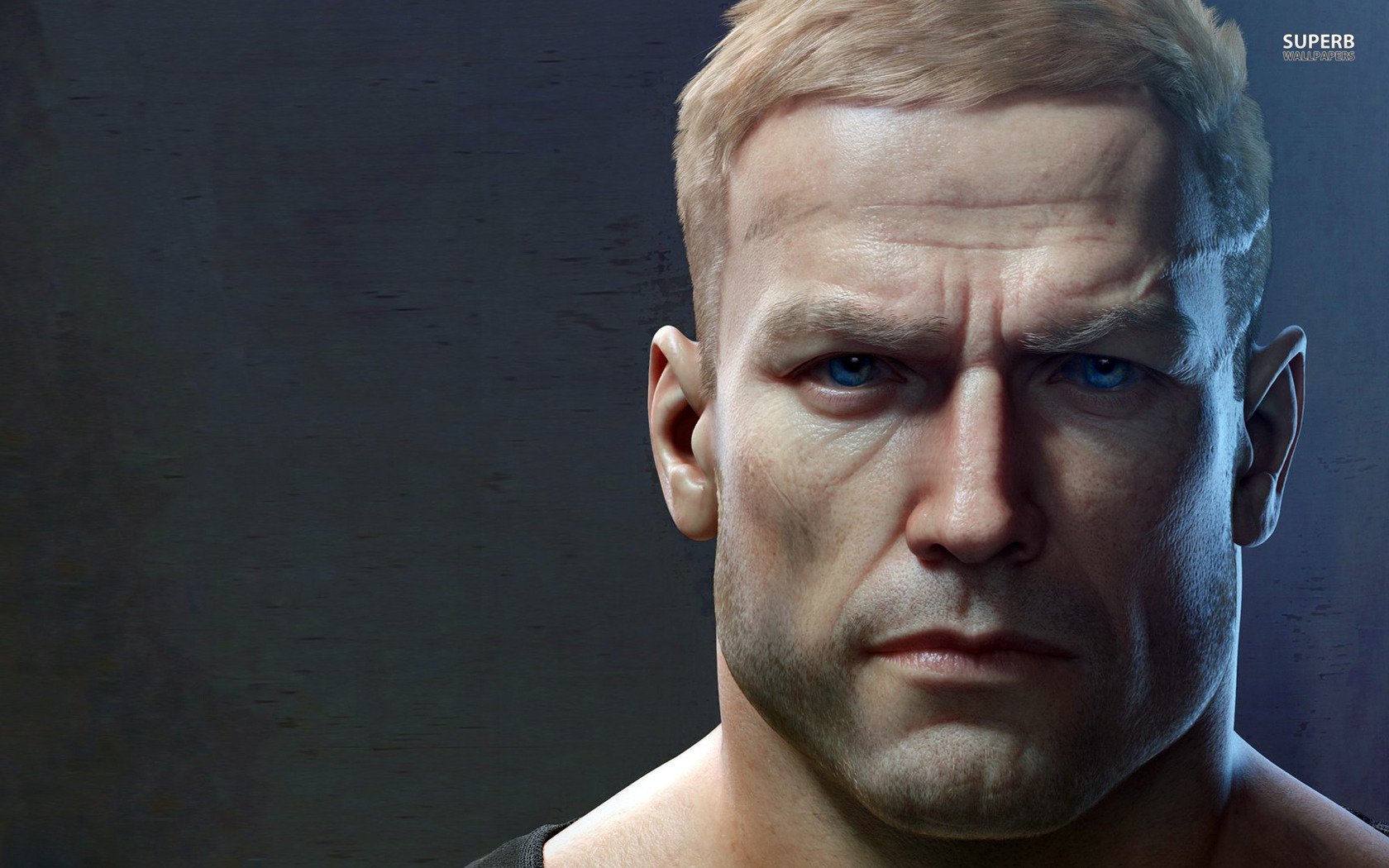 "Captain to the bridge. Captain to the bridge." The speaker said. He put his armor back on. It always surprised him how comfortable it was and how he loved the feel of it. He walked to the bridge. The hallway glittering under the lights. It was always a nice walk, the windows on the hull of the ship expressing the beauty and vastness of space. He took a moment to look in the distance. Mars just barely visible in the array of stars and galaxies yet to be explored. He took notice of Haley's Comet as it passed on it's path to Earth. He had heard rumors of Earthgov putting a launch pad on the comet and using it as a jump point for farther planets. After the comet disappeared from view he continued his trek to the bridge. They occupied a G-class Cargo Freighter. A small merchant ship with minimal shields and weaponry. No merchant ship was ever suspicious and they were impossible to identify every single one as there were hundreds of thousands of them traveling between Mars, Earth, Mercury, the Moon, and Jupiter's moons every day. Evan had taken the liberty of upgrading the weapons and shields to military standards. The ship had hidden missile launchers on the ship. The shields had been over-drived to out do most military scout craft. It had also been outfitted with "Harpoon" Launchers to make boarding easier. Not to mention the G-Class Cargo Freighter has the thickest hull of all modern Cargo Freighters, making it a perfect choice for a pirate.
Evan arrived at the bridge. "Good afternoon sir! We were looking through the cargo and noticed something. The Ambassadors were carrying hefty amounts of wealth to Mars."
"So? That's typical of their Ambassadors."
"They were also carrying WMDs and other 'Classified' weaponry. One of those was an EMP weapon and some codes and files that, after careful study, seemed to be linked to Robot program. It was stamped with a US Military seal and signed by the US President himself."
"Why would Ambassadors be carrying stuff like that?" Evan asked trying to process the information given to him by his XO.
"Well, it seems that the Mars Military is getting a buff or the US has something planned to occur on Mars."
Both frightened Evan equally. The Military one was most frightening though. That meant raiding would get harder and that they would be at a disadvantage once again.
"Sir, I have 5 hostiles in front of me, it's a patrol."

"I see em', light em up guys, quietly."

All five of the robots dropped immediately to the thump-thumping from their assault rifles and suppressors. Knowing that the robots would send a hard-dick out to investigate, they wired the bots up to blow and continued on.

The defenses consisted of a compound filled with 15 of the bots, and a patrol of 5. That he found odd, as using the alert system when a bot goes down would have been a great early warning system. Well, they'll live and let learn.

Coming just outside of the compound, they set up their weapons and got ready for a big ass fight. There was only 15 of them, as one of the patrols was taken out and out of the game. It pissed John off too, those guys were some of his best shock troops.

There were 3 snipers on the north corner taking cover in the trees which would provide for the main assault going with John. They readied fires just ahead of them so all they would have to do is shoot them for them to flare up. Once the placements were set and everyone was in their places, they waited for the explosion.

20 minutes later, it was heard. Then the first shot was fired y a sniper, taking the head off of one of the bots and dropping him to the ground. The bots then formed up on the wall to survey the field with thermal, but right as they got there John and his men fired on the fire piles, disrupting their thermal imaging. They started firing at the fire, and then John had his men fire on them. It was becoming one sided until the bots received the order to fire above the fires, and a couple of his men and a sniper was taken out. Time for plan B.

They ran to the East, and a couple more USBAST were shot and taken out. They climbed a hill on the Eastern side of the compound and attached wires to the inside of the compound to trees on the hill. They got on the wires and went in as a unit. On the order, they released at the same time and started to fire on the bots inside the compound.

All hell broke loose. Soldiers and Bots alike were falling, until John got his men to cover and they started taking out the Bots one by one. Soon it was only a handful who were hiding, and John was on a tight schedule. The Bots then started firing on John and a couple of his men were hit again, leaving only 2 more USBAST on the field. This was bad.

When they started hiding again, John got the Sergeant's attention. "Alright brother, it's two of us and maybe 4 or 5 of them. We're running on a tight schedule here, let's move it."

"Aye, sir."

They ran across the courtyard with the bots firing on them and slammed into the wall on the other side, killing one of the Bots. A couple came upon them but they took them out together. That left one more hiding.

They decided not to split up and they cleared the compound together. He was no where to be found until he fired, getting the Sergeant right in the chest. John looked to see where the shot came from and hit the deck. Then, a rocket launcher arming got his attention and he started running when he heard the missile fire, and realized it was tracking him. He kept his eye on it, and he could see things starting to get slower. It was his "Spartan Sense", the adrenaline would be pumping so much that he could literally slow time down for himself, and see things with a much more slower perspective. Time itself would stand still, but he could see it slower.

The missile, drawing closer, was not one of the pain splatter missiles used for training combat like this. This was an actual HE round coming straight for him. Right as the missile came upon him, he grabbed hit and pointed it toward the robot that shot it at him. It was blown to bits and the battle was won.

Dotaria

SPDF Commander




Posts

: 740


Join date

: 2013-11-21



From out of his left eye, he could see a haze. He felt his head throb and ache; the pain was nearly overwhelming. His right eye refused to open, thick with heavy layers of half-way hardened blood from what he presumed was his forehead. Isaac attempted to move his arms, which were bound behind him, and his attempts proved to be futile. His bent frame was pushed against a wall, and his hands were trapped beneath him. His hands felt dead, the blood ebbing from his arms. The gag in his mouth restricted his speech and breathing - causing quite the headache.
He heard the slap before he felt it.
"So you're awake, eh?"
"Why..?"
"Really?! You think I don't know who you are? I know WHO you are, I know WHAT you are, I know where you live, I know your family, your friends, and your life. And you're going to do what I tell you to do if you value their lives!"
Isaac felt the gag pulled out of his mouth. Finally some wetness. Finally some breath.
"You're making a mistake! Just because I'm from the Empire doesn't make me one of them!"
John got his men in the field and they rendezvoused with the people conducting the wargame.

"Commander Hunter, good job," Colonel Greg James said, a medium built man who created the USBAST.

John saluted the man, and his men followed suit. "Thank you sir." He dropped his salute. "So, does that mean we have augmented soldiers on the front lines now?"

the Colonel looked at the scientists behind him and for a moment, glared. He turned back and told John, "Unfortunately not. Your men fought valiantly, but they look at these machines that almost took you all out to be the best choice for the United States Army, as we can field more of them."

John was taken back. Granted, he could have handled the battle a lot better but getting ousted from the Army? "What the fuck, sir? My men are the best there are, and you know for damn sure that numbers don't win a fucking battle!"

The Colonel let John vent, as it was his feeling as well. "I know John."

"What about me and my men? Too expensive to fund?" John asked.

"Since you are an officer, you will have the choice of staying in the Army. Your men, however, will be phased out by the Mark VII's," the Colonel said, with a broken heart.

"Sir, you can't just phase us out like that! We're not fucking machines, we're human beings!" John yelled.

"I know that Lieutenant! That's why they don't want you!" The Colonel said.

"I thought you were on our fucking side, Colonel," one of the Sergeants said, and the rest of the men nodded in agreement.

"Don't you ever question my loyalty to you, BAST's. You know DAMN well where my loyalties lie," the Colonel said with a glare, looking at all of the men behind John with a little flash of contempt.

"I suppose you want me to command these bots..." John said, after taking a moment to himself.

"You are one of our best Combat Officers in the Army's Officer Corps. They want to keep you," the Colonel said, calming down.

"I'm not sitting behind a computer screen while my men have to live on the streets and beg for scraps. You take me with my men or I leave as well," John said, then continued, "Take us to the Pentagon. I wanna speak to these bastards myself."

The Colonel was taken back at first, then smirked a little. "It would be a funny sight to see one of my superiors yelled at by a Lieutenant. Bring your men with you, we move out in 10 minutes."

Dotaria

SPDF Commander




Posts

: 740


Join date

: 2013-11-21




---
Permissions in this forum:
You
cannot
reply to topics in this forum